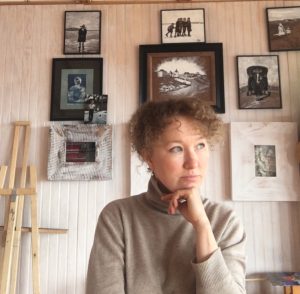 Your studio is in beautiful Lethbridge, on the Bonavista Peninsula. Tell us a little bit how you found yourself settling down in Lethbridge and how it has influenced your practice. In what ways does the community support you and your practice?
Newfoundland is poetic and mystical and full of stories. The contrast of textures is very interesting; you have rocks and waves and wood and fog, old boats and clotheslines.
Settling in Lethbridge on the Bonavista Peninsula became a defining moment for me as an artist… to be honest I think I am an artist because of it. On one hand I have found much desired solitude to be able to create art and on the other an incredible support from the local community as well as artistic community of Bonavista Peninsula.
Newfoundland captured my soul – it put roots right through me, it sewed and quilted me on to that rock. I feel like I have been absorbed into the mossy ground.
Newfoundland is very choosy but if it chooses you then you will never be able to get it out of your heart. Many artists working and living on Bonavista peninsula could probably say the same I think.
As an artist I have a very deep desire to connect to people and communicate my observations through my art, whether it is painting, weaving, printmaking or a combination of it all. I collect stories like a writer. As writers scribble their experiences on pieces of paper, I am sketching and observing to create my visual narrative. Photographs from archives of my friends, family and neighbours provide an amazing reference material that suits my aesthetics.
I love to connect through sentiment and emotion and I hope it is translated in my work. In my series "In search of time and place", "Ocean effect" and "Tondo and Quadro" I express just that.
Community has been an incredible support because I am here to learn and to connect. I believe in freedom of expression in art and the richness of ways to do so. I love to be useful in the community and so we've created a few projects at the local recreation centre with youth at the summer camp program. It is so important to involve children in creating an art project together as a team. One year we created a Quilt of Stories and another year we created a large mural, it is now on display in the the recreation centre, the mural consisted of wooden squares depicting each child's house or local landscape. Clarenville public library was a huge support when I was taking my first steps in teaching art. I love bringing people through art, people of different ages, different cultures and paths in live.
There is lots to be said about reach and the supportive arts community. No matter the distance from Bonavista to St. Johns, artists and art enthusiasts are very much connected through social media and art events and festivals.
In your work, you draw from a diverse set of media and concepts. In what ways do your different creative practices connect with each other?

Poetically I would say:
Dreams and stories of the island manifest themselves in enigmatic manner through the thick salty air to be transformed into the objects I create.
Your teaching practice has been very popular! From public painting classes to private art lessons, how does your teaching practice influence your learning as an artist?
As I have mentioned earlier communication is important to me, although I am paradoxically an introvert at heart.
Working in the studio in isolation could be very daunting at times and classes give me a great opportunity to connect to people to learn about them, about how they see art, what they know about art, learn about their personalities and hopefully share my thoughts about art and present a few creative concepts to them.
Some of your works are quite serious, such as your In Search of Time and Place series – while others are rather funny, such as your Jedi Puffins and rug-hooked creatures. How does this balance support your making practice? Is it easier for you to float between different concepts than to work on a single concept for a long time?
True! On one hand I have series like Tondo and Quadro exploring containment of landscape within a certain format. Ocean Effect and In Search of Time and Place looking into Newfoundland history and reflecting on personal narratives of people living on the island, and on the other hand I have a collection of humorous, happy, fantasy pieces where I just have fun.
I could say In my practice I allow myself to experiment. I do not want to deny myself experiences in expressing through different mediums. I hope to keep my curiosity going. To me it is a bit like being able to speak different languages. I usually work in series and am pretty consistent with style throughout a body of work for particular theme. Over the years producing work I am able to separate directions that I consistently take: monochromatic figurative referencing photographic imagery, gestural flat acrylic works on paper, and colourful pointillism landscapes. Textile work is a different direction all together. Perhaps in a few years I will settle on just one direction or bring all of that experience to create one style.
Do you see your practice as influenced by your favourite artists? What artists do you draw inspiration from?
Absolutely I am inspired and influenced by so many. I've been exposed to an incredible amount of art since my early age. The early influences were impressionists, post-impressionists and fauves like Matisse. These artistic styles played a huge part in forming my aesthetics.
I also love Hieronymus Busch and Pieter Bruegel. I try to incorporate their story telling approach into my work. Works of Newfoundlanders like David Blackwood and Christopher Pratt explained so much about the island to me. I was happy to find some comfort and love in Mary Pratt's work. Frank Lapointe's landscapes were an immense inspiration. Gerald Squires mystical roots and rocks intrigued me.
Recently I am under the impression of David Hockney's retrospective exhibition at the Centre Pompidou in 2017. It inspired me and it reassured me that we now have this great freedom of expression in painting and that changing your style and experimenting is a part of being an artist.
I must mention that thanks to the VANL membership card, many museums can be visited for free or with a considerable discount. It allows for a great research in such awesome institutions as Louvre, Reina Sofia and Prado, National Art Gallery of Canada in Ottawa to name a few.
What are some skills you would like to learn to incorporate into your practice?
I would like to continue learning about printmaking techniques as well as continue studying academic drawing and painting any chance I get in the future.
If you were able to go on a month-long art research trip – unlimited budget – where would you go? What would you do?
I always wanted to experience Iceland as well as New Zealand. I feel these places have some spiritual or conceptual connection with Newfoundland so it would have been very informative and enriching for my style in art. Idea of art residency in Barcelona attracts me as well, I think it would be an awesome place to experiment , think outside the box , find unexpected solutions and push my art a bit further .
What's on the horizon? Are you working on any new exhibitions of work?
I am continuously working on my Ocean Effect monochromatic series as well as colourful seascapes and landscapes and getting ready to exhibit some of it soon. There are also a few other projects on the go, fingers crossed.