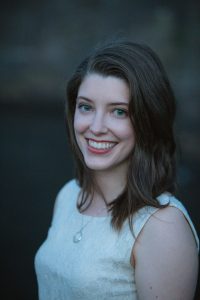 BIO:
Emily Pittman was born in St. John's in 1994. She graduated from the University of Guelph in April of 2016 and received an Honours Bachelor of Arts Degree (with Distinction) with majors in both Studio Art and English. She moved to St. John's, NL, in May of 2016 and started work at the Anna Templeton Centre for Craft, Art & Design in September, 2016 as Program and Promotions Coordinator. She was nominated for the BMO 1st Art! Invitational Student Art Competition and received the University of Guelph Faculty Award for Painting. Emily co-founded The Gathered Gallery, an independently run visual arts gallery and curatorial writing blog found at www.gatheredgallery.com. You can also view Emily's recent artwork at www.emilypittman.ca
1. Considering your art scene foundation began in a completely different province, what was your experience moving back to Newfoundland? What was integrating into the St. John's art scene like for you?
I was really excited to move home and to see what I could bring to the St. John's art scene. It was lonely at first, I had built up friendships and connections in the Guelph art community, and rebuilding that community felt a bit daunting. By going to events and volunteering, especially with Eastern Edge Gallery, I'm starting to build a network of artists here. St. John's has such a tight knit community, and it's very welcoming! Also, resources like affordable studio space are accessible here, which made the transition easier.
2. Though you're from Newfoundland, you did your BFA in Ontario. Looking back on your past year here, what aspects of your practice have you noticed has changed or even thrived since returning?
Guelph offers a BA in Studio Art, instead of a BFA, which was one of the main draws away from the province for me. It enabled me to complete a second major in English at the same time, because the two degrees had a similar course structure. It was, and still is, important for me to continue to improve as a writer as well as an artist, and I'm glad I was able to study both.
Since moving to St. John's I've gotten a lot of my inspiration just by paying attention to buildings on the streets I see every day. Downtown St. John's is, of course, a gold mine of funky building structures and colours, so I've had no shortage of ideas and inspiration while living here!
3. What concepts or themes influence your work?
I love taking images of buildings out of context, simplifying their forms, and removing their structural integrity by layering them on top of other buildings. I let weight bearing walls and beams become soft and loose, douse them in a colour palette that for some is sentimental and nostalgic and for others is bold and jarring. The buildings are transformed from something familiar, functional, and tangible, into images that are both strange and evocative.
4. Tell me about your new show at the rOGUE Gallery – is this your first show after graduating?
Yes it is! The show includes work I made while in Guelph as well as work I've made since I graduated, including a painting I completed on the wall in the gallery just this week! This show will include paintings and collages, which I've never shown together before, but I think they will compliment each other nicely. It opens on May 12th, after Eastern Edge's spring cleaning, and the gallery looks incredible.
5. What sort of challenges did you face when preparing for this show?
I think the biggest challenge was working solo! Most of the large projects I've taken on have been with at least one collaborator, I love working with other artists and it's nice to have someone to plan with and bounce ideas off of. But it's also been really amazing to focus on just my own work, it has definitely made me a stronger artist.
6. You work a lot with abstracted images of houses/structures. You have also co-created and curate an online art gallery, "The Gathered Gallery". Would you say there's a connection or correlation between the two?
It's kind of funny that I put so much focus on physical buildings in my art practice because a building is something our little "gallery" doesn't have! It's a project that keeps me thinking about art, engaging with artists, and creating a kind of online community. I love having a platform to share the work other artists are making. I'm also really grateful to have a way to keep collaborating with artist and friend Natalie Field, The Gathered Gallery's other co-founder. She is also a graduate from the University of Guelph and is now based in Toronto, and while we aren't sharing a studio space any more, this project keeps our creative partnership strong!
7. How do you see your art practice influencing your take of the 'gallery' and vice versa?
Any time you spend looking at art and thinking about art will affect the work that you make. The more I begin to understand and be able to articulate my own art practice, the more confident and clear I'm able to be when discussing the work of others. The work we write about on 'The Gathered Gallery' website is a reflection of both of our tastes, so you can definitely see the influence of my love for colour, while Natalie is drawn to works that are grayscale or monochrome. It's lucky that our taste isn't too similar, or it would be a pretty boring website!