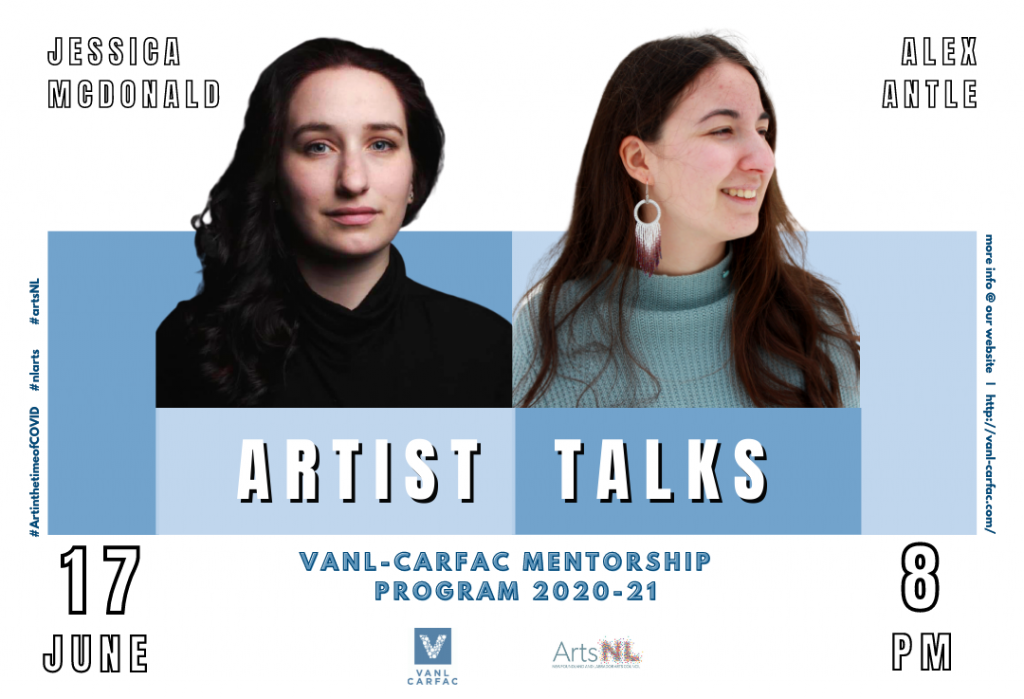 VANL-CARFAC is pleased to present the first of two instalments of artist talks by the participants in our 2020-21 Mentorship Program. Please join us via Zoom on June 17th at 8pm, where Jessica McDonald and Alex Antle will discuss their their work, their practices, and their experiences with the mentorship program. Please click here to sign up via Eventbrite. A link to join will be sent prior to the event.
Jessica McDonald is a Textile Artist residing in St. John's, NL. With a BFA in Interdisciplinary Studies from NSCAD University, she brings traditional craft to light through education, contemporary explorations, and process documentation. Jessica is passionate about community created through the act of making and the history in which it carries.
Alex Antle (she/her) is an emerging L'nu beadwork artist located in Elmastukwek, Ktaqmkuk (Bay of Islands, Newfoundland). She has been learning and practicing beadwork for 4 years with the guidance of a community of Mi'kmaq beaders. Alex's art often explores the relationship between tradition and modern Mi'kmaq people. She is interested in living culture and the evolution of Mi'kmaq culture as well as the importance of the land and water. Alex has exhibited her work in galleries across Newfoundland and Labrador, participated in art festivals, and frequently shares her skill through beading workshops.
The VANL-CARFAC Mentorship Program was created to provide opportunities for productive and supportive relationships between established professional artists and artists wishing to develop and enhance their practice. The mentors provide one on one encouragement, advice, information and resources to mentees, who are aiming to achieve specific professional goals. Funding for The program was drawn from the $120,000 Art in the Time of COVID fund established by ArtsNL to help the Newfoundland and Labrador arts community during the COVID-19 crisis