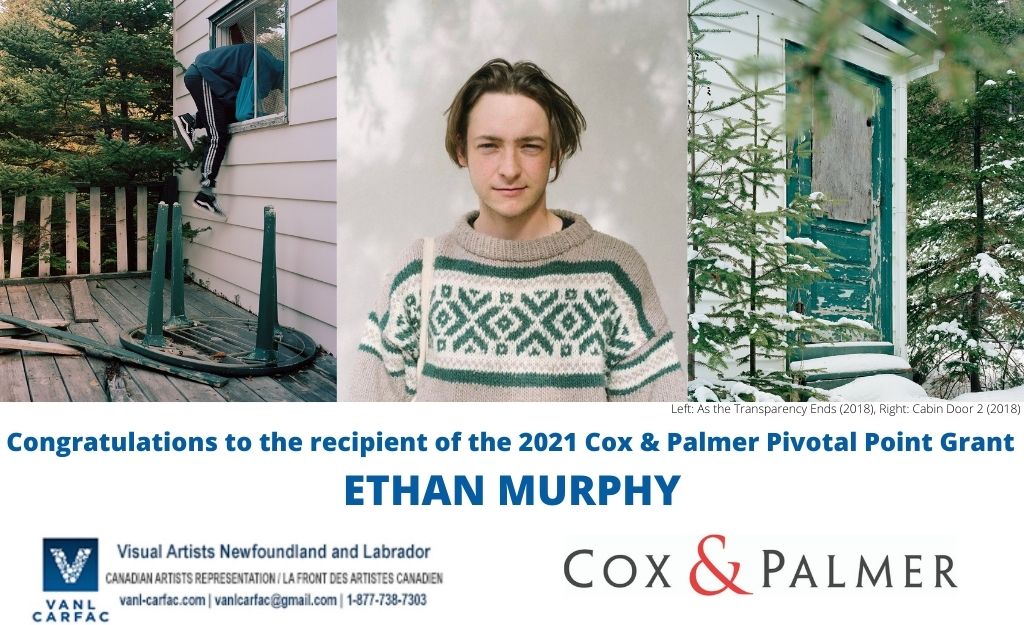 Recipient of the 2021 Cox & Palmer Pivotal Point Grant Announced Visual Artist, Ethan Murphy, Awarded $5,000
For Immediate Release St. John's, NL – December 8th, 2021 Cox & Palmer and Visual Artists Newfoundland and Labrador (VANL-CARFAC) are pleased to announce Ethan Murphy as the recipient of the 2021 Cox & Palmer Pivotal Point Grant in support of "Eternal Return"—a photographic project centered around a cabin given to the artist by his late father and interrogating the ways that "positivity and resilience can emerge from grief".
The Cox & Palmer Pivotal Point Grant is a funding opportunity offered through VANL-CARFAC for visual artists in Newfoundland and Labrador. It was created to provide financial support for working visual artists who have reached a crucial point in their artistic career, to allow them to evolve their practice and develop their reputation and visibility within the art world.
"Cox & Palmer is delighted to congratulate Ethan on this well-deserved recognition," said Leanne O'Leary, Managing Partner. "His work, and the meaningful motivation behind it, pays tribute to the relationship between people, places, and culture in Newfoundland. We are pleased that this grant will support Ethan as he develops 'Eternal Return' and pursues his career as a visual artist."
"Eternal Return" will be an exciting next step in Ethan's work and every aspect of his application demonstrated his investment in its success," said this year's jury. "Ethan obviously has big dreams for this project and a clear sense of its importance to the development of his practice as a whole. The jury was very pleased to award this year's Pivotal Point Grant to this project."
For media enquiries, please contact VANL-CARFAC's Program Co-ordinator, Kristen Piercey, at vanlcarfac@gmail.com or (709)-738-7303.
-30-