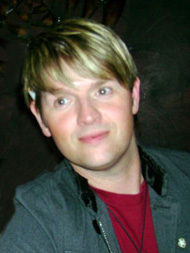 Christian Cardell Corbet, b. 1966 Pickering Beach, Ontario, Canada. Currently resides in Newfoundland, Canada and Kent, UK. Professional painter, sculptor, designer, forensic artist, art historian, fine art collector and benefactor of the fine arts. Specializes in portraiture and medallic arts. He currently is researching his forthcoming book, History of the Art Medal in Canada: The Cast Medallion. In his studio work he is sculpting a portrait of Sir Winston Churchill authorized by Lady Soames and a portrait painting of the Vice Dean of Guernsey, Channel Islands. Forthcoming project is the "Avion – Lost Solider Project" working with the Ministry of National Defense and two Canadian Universities to identify the remains of a WW1 soldier recently discovered in France.
Founding Member and Past President of the Canadian Portrait Academy (1997-2001), Founding Member and President of the Canadian Group of Art Medalists (2000-Present) and "Forensic Artist in Residence", University of Western Ontario (2003-Present), he has curated national and international exhibitions for the Canadian Portrait Academy, Canadian Group of Art Medalists and other special exhibitions.
He has been the subject of 15 solo exhibitions and 28 Group exhibitions both in North America and the UK. Authorized subjects include H M Queen Elizabeth the Queen Mother, Margaret Atwood, Dame Jane Goodall, Col. Geo. Stanley, Lt. Gov. Pauline McGibbon, Rt. Hon. Ellen Fairclough, Dr. Jean Coulthard, Dr Roberta Bondar, Odette Churchill, Doris McCarthy, H C Chadderton, and Sir Winston Churchill, among numerous others. He is also noted for his captivating iceberg landscape paintings. He is represented in over 50 international art galleries and museums to include the Imperial War Museum, British Museum, Rijksmuseum, Fitzwilliam Museum, Vienna Kunsthistorisches Museum – Coin Cabinet, The Royal Coin Cabinet – Sweden, The Rooms Art Gallery and the Guernsey Museum and Art Gallery.
Presently an Elected Academician of the Canadian Portrait Academy (PPCPA), Canadian Group of Art Medalists (CGAM), British Art Medal Society (BAMS), International Federation of Medalists (FIDEM) and Elected Fellow of the Royal Society of Arts, England.
He has been involved in a number of international charitable projects to include World Vision, Habitat for Humanity, Maison de Millions and the International Dyslexia Association among others. He is also proprietor of the Corbet Collection of Canadian Women Artists (CCCWA) and Donor/Patron to the Guernsey Museum and Art Gallery, Guernsey, Channel Islands.
He was elected a Fellow of the Royal Society for the Arts, UK in 1995; and Recipient and Corporate Award Partner, National Research Centre, "Sulman Mummy Project", 2005.
_______________________________________________
10 Questions
1. When did you first realize that you wanted to become an artist?
I first realized that I wanted to become an artist when I said to my Grandma-ma at age 7, "Since you like my drawing I will sell it to you for 25 cents", and she bought it! After that I realized there was a chance for me to survive in the art world.
2. What mediums do you work in and why?
I work in a broad cross-section of media, which include bronze, clay, resin, oil, watercolour and bones (the latter is for my forensic work). I enjoy all these mediums because of their unique ability to convey my thoughts, feelings, emotions and most of all a message.
3. How do you get ideas for your artwork?
My ideas for my work are often found in the people and places that I know or visit, whether that be the people that I meet at a corner store or at a VIP Lounge or a passing iceberg or a clump of moss!
4. What other artists influence your artwork?
Artists that have influenced my work include the late Isabel McLaughlin, the late Dora de Pedery-Hunt, Dr. Elizabeth Bradford Holbrook and the late Carl Milles.
5. What are the 'big' themes in your artwork?
The 'big' themes in my artwork include portraiture, predominantly in my sculpture work, and icebergs in my paintings.
6. What is the greatest challenge you face as an artist working in Newfoundland and Labrador?
The greatest challenge that I face as an artist working in Newfoundland and Labrador is locating artists who would like to establish group art exhibitions.
7. What is the best thing about working as an artist in this province?
The best thing, and I mean 'best thing' about working in this province is the great solitude that I encounter here. Compared to all the other provinces I have worked in this is by far the most serene.
8. Where do you see yourself in 10 years?
I see myself in 10 years working more in the role of a mentor to emerging artists helping promote the fine art of the medallion and in particular relief work.
9. If you weren't an artist, what would you be doing?
If I wasn't an artist I believe that I would be on stage. It's in my genetic coding!
10. If you could have one wish granted, what would it be?
If I had one wish granted I would wish that all artists, regardless of discipline, would have the opportunity to work at their craft and get restitution for their endeavours.
Want to be our next Member of the Month? Submit your answers to the 10 Questions listed above, plus a jpeg photo and a short bio before the first Monday of each month to be entered in the random draw.  All submissions should be emailed to sara@vanl-carfac.com.