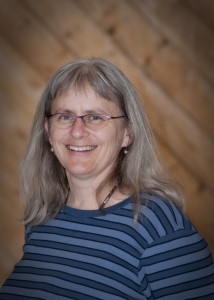 Ceramic sculptor Reed Weir is a Newfoundland based sculptor who explores the moment when action becomes stillness and ignorance becomes understanding.
She was born in 1956 to artist parents in Parry Sound, Ontario. Weir learned the craft of pottery from her mother and graduated from the Ontario College of Art and Design (AOCAD 1985).
In 1991 she moved to Newfoundland and Labrador and with her husband Brian Banfield, established the production pottery studio Phaedrus Applied Arts. Her life in rural Robinsons fuelled Weir's figurative ceramic sculpture with enduring themes and compelling images, which have been enthusiastically received by public and commercial galleries. She has been exhibited in Canada, the United States, Germany, Japan and Thailand – notably Earth Works, organized by the Gardiner Ceramic Museum for Expo 2000 in Hanover, Germany and Autoportrait, 10th Biennale Nationale de Ceramique, Trois Rivieres, Quebec and Canadian Clay and Glass Gallery, Waterloo, Ontario (2002).
In celebration of Craft Year 2007, Jonathan Bancroft-Snell Gallery of London, Ontario commissioned the sculptures for The Flood at Furnace Cove. Weir's sculpture is held in numerous private and public collections including The Rooms Provincial Art Gallery, The Government of Newfoundland and Labrador, The Burlington Art Centre, and Mount Saint Vincent University.
Reed Weir's artwork is featured in Gail Crawford's Studio Ceramics in Canada (2005), Lark Book's 500 Animals in Clay, Contemporary Expressions of the Animal Form (2006) and the American Ceramic Society's From Mud to Music (2006). Reed was the winner of VANL's 2009 Large Year Award.
1. When did you first realize that you wanted to become an artist?
Both of my parents were artists and the house was always filled with art, books, and catalogues. When I was four I clearly remember painting a "Miro" and being so proud of it. I took it to my mother and told her I was going to be an artist.
2. What mediums do you work in and why?
Predominantly I work in stoneware clay. I like the plasticity of it and modeling appeals to me. There are technical challenges at all stages. Clay readily combines the intellectual with the emotional. My formal education was as a painter and I tend to apply my surface decoration in a painterly manner. When a piece is completed I like how it is permanent yet fragile, fluid yet rigid.
3. How do you get ideas for your artwork?
It is a constant growth or development. I work in continuum. That way I am always thinking as I am working on what comes next. I am often three or four series behind my thoughts. The forward direction changes and gets edited as I go along. Usually I work in series constructing a few sculptures to figure out the technical requirements, a selection to complete the idea and as a wrap up I let the idea and material lead me. I keep a sketchpad to jot down ideas and my concept development and then I develop the ideas in clay. I generally am working in clay all the time so I keep the sketches simple as clay has its own language and I want to resolve the ideas directly into the medium. I concentrate on themes that are relevant to both my rural community as well as away. Sometimes I think of my work as a sort of anthropology of living culture.
4. What other artists influence your artwork?
Originally it was painters that mostly influenced me. I was raised in Windsor ON and spent many Sundays at the Detroit Institute of Art. Diego Rivera's amazing mural stands out as well as Seurat. I guess even as a 2-D artist I was interested in form and social content. I mention these two artists because they come directly to mind; however, over the years many artists have inspired me. My parents as well were strong influences as they were both active and I was surrounded by their work. Two ceramic artists I admire are Philip Eglin and Gertrand Mohwald. . . both work figuratively and sculpturally.
5. What are the 'big' themes in your artwork?
Culture and society – the human experience.
6. What is the greatest challenge you face as an artist working in Newfoundland and Labrador?
I would have to add "rural" to this question, as I do believe there are different challenges to artists working in the rural regions. Distance can pose challenges. Being far from any cultural hub of activity limits my networking within the industry. It also adds cost to shipping things to and fro. Material and equipment have to be ordered in advance.
7. What is the best thing about working as an artist in this province?
I like the population size and how the province has a strong cultural community. As a rural artist the distance from a cultural center, especially during my developmental years, made it necessary for me to be independent. The distance allows me to be part of this community while maintaining a personal autonomy.
8. Where do you see yourself in 10 years?
A lot can happen in 10 years. If at all possible I will still be in Robinsons and still producing work. To do so I will need to expand my studio and kiln capacity.
9. If you weren't an artist, what would you be doing?
If I weren't an artist I wouldn't be me.
10. If you could have one wish granted, what would it be?
The chance to work to my full potential for an extended period of years.