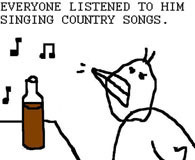 Craig Francis Power is an artist and writer from St. John's.
1. When did you first realise that you wanted to become an artist?
When I was a kid. 10 years old, maybe.
2. What mediums do you work in, and why?
I generally work in video, installation, performance and drawing. I like the instantaneousness of these mediums.
3. How do you get ideas for your artwork?
I get ideas through looking at art, reading, watching films, paying attention.
4. What other artists influence your artwork?
David Askevold. Manet. Courbet. 70s Conceptual artists. Mike Kelley. Folk art. Merle Haggard. Walter Benjamin. Duchamp.
5. What are the 'big' themes in your artwork?
Kitsch. The idea of the rebel. Humour. Having fun. Creepy things like ghosts. Issues pertaining to class. Rural life. Craft.
6. What is the greatest challenge that you face as an artist working in Newfoundland and Labrador?
Lack of exposure to contemporary art and artists, and a complete lack of critical engagement on the part of artists and critics in the province.
7. What is the best thing about working as an artist in this province?
Because we're removed from the major centres, there's a real freedom to experiment. There's no pressure to become an art star.
8. Where do you see yourself in 10 years?
Hopefully still making art.
9. If you weren't an artist, what would you be doing?
Farmer.
10. If you could have one wish granted, what would it be?
World peace.