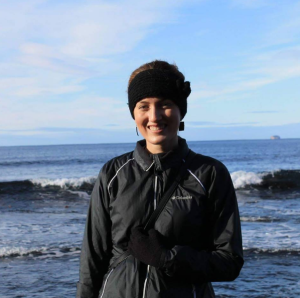 Bio:
April Fowlow is an interdisciplinary artist from Guelph Ontario. In 2017 she received a BFA in Visual Arts at Grenfell Campus Memorial University. She also studied abroad for two semesters, in Harlow, England and Hobart, Tasmania. She has exhibited her work in the province of Newfoundland and Labrador, Canada, including juried exhibitions at the Tina Dolter Gallery and the Grenfell Campus Art Gallery. As well, she has shown her work in England and Australia. The focus of Fowlow's art practice is her passion for coral, which she regards as the most beautiful life form on earth. In her work, she attempts to visually preserve coral through her sculpture, performances, installation and photography.
1. So April, I know you're interested in curatorial studies, tell us a little about your work in curation, what you've been learning? How you've been learning about it?
I have been working at the Grenfell Art Gallery for one and a half years, and have learned an enormous amount about curating. A lot of that was by installing and uninstalling shows, helping with the mailing list, helping plan activities for the community such as school groups, and many other tasks. I learn as I go, as every exhibition is different to install. Everyone finds their own way of working, also when working with a great team like the one at the Grenfell Art Gallery you are able to learn a lot from each other.
2. Tell us about your own art practice, have you found doing curatorial work has effected it?
My own work is based around preserving beauty, especially coral as I find it the most beautiful life form on earth. Therefore I create my art keeping aesthetics as one of my main focuses. Working in the gallery I am aware that how you present your work impacts how it will be viewed. So I always try to keep in mind the material I use to install my work, what environment I will install in, and the proper lighting so my piece is represented well.
3. Since you're close to graduation, can you tell us about the work you have planed for your graduating exhibition?
I am about to graduate, I will be apart of the fourth year graduating exhibition Sightlines. I am putting in a video of my performance called No Where To Go, which is a piece I did outside this winter down at the Corner Brook harbour. I stand in a coral sculpture which I made wearing a dress to match the coral. I wait in the freezing temperature and snow for 25 minutes, as I cannot physically handle it any longer. I am trying to be empathetic for coral and their fight to survive within their environment.
Another piece I am putting in along side this one is called Seascape. I have taken three large pieces of sheet metal and shaped and cut holes to represent branching coral up close. Then I banged circular dents into the remaining branches to create a texture. I will layer these three pieces and hang them one in front of each other and light to create shadows.
4. Do you plan to continue on with curation after you graduate? In what capacity?
Once I graduate I hope to keep working at a gallery and having exhibitions during this next year before I apply for a masters. I am interested learning more about curatorial work so I will keep this as one of my main focuses as I move forward.
5. What advice would you give to students who are just starting off?
Since I have been at Grenfell I have learned so much. One important thing I wish I knew a little earlier on in my degree is that documentation of your work is one of the most important things you should be doing as an artist. If you want to apply for anything such as residencies, your masters, or exhibitions you need good documentation of your work. In the last year I have made this my main priority. Another is to gain as many experiences you can while you are in school such as travelling to see other places for inspiration and see art outside your community. There are many opportunities to be found out in the world and amazing things to see.