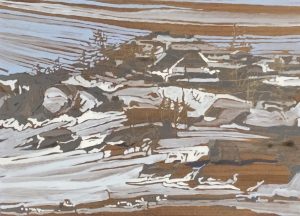 Your beautiful studio is located in unique and historically rich town of Bonavista. Could you tell us a bit about this area and community?
Bonavista and the Bonavista Peninsula is a unique place. Through the landscape there are many voices with histories told and untold, generations of families are that connected to this place. There is a diverse community here and a palpable feeling of rootedness and belonging. The peninsula is home to many artists, artisans, community based art + craft initiatives, small businesses and long standing organizations. It makes for a rich place to create. Observation, research and understanding all influence my thoughts and processes. In my short time living and working here I have learned that we are stronger together and in support of each other.
One of the prevalent themes in your painting is nature and landscape. How does change of season affect your work?
Nature and landscape remind us of the great beauty, the richness that is here. Memories and story telling, observation and research, the multilayered histories, diverse cultures and long standing traditions all influence context. The seasons add dimension to that context as the light, the colour and the forms shift and reveal something new at every turn. Work in the gallery + SHEEPSHoP + my ArtStudio is entirely place based art + craft + design – it is of this place.
It is always interesting to learn about creative beginnings and how artist arrived to their current practice. Could you share your artistic journey with us?
My journey is a life long one and one that has, in this form only been fully realized in the last couple of years. My background is broad, diverse and multi faceted – all of which create my approach to what I do, how I create and see. It all started in the Prairies where I was born, where I was taught to 'see' by Modernist Painters, artists and architects; I left the Prairies at 18 for Parson's School of Design in New York City, then completed degrees in Architecture at the University of Manitoba and Fine Arts at Emily Carr Institute of Art + Design. It has taken 40 years of life to finally get to where I am, where I have longed to be. As an emerging artist I arrived in Newfoundland after a long, at times arduous, personal journey across Canada. Leaving BC and travelling through all the provinces and territories (except Nunavut) living in my Westfalia for 6 1/2 months, I saw this remarkable country, shed many layers which helped me uncover this new way of being. My place is here in Bonavista and that was clear to me within a few months of arriving and I carry with me, my love of landscape, of place and of community.
Your sculptural work has a very rich visual impact and an impression of being extremely labor intensive. Could you share your experience creating your sculptures?
My work in two or three dimensions considers the materiality of place in rural Newfoundland. My sculptural work is a very intense focused exercise that brings me immense joy – sculpting space, gestures through form, implying stories are all imbued with meaning from the materials. Metal strapping, a wire mesh armature and found materials creates line, an intentional form, a gesture and hopefully a story as it relates to life here in Newfoundland. I look to the material to suggest what it could be, what its limitations are and in some small way I try to innovate, to bring ideas forward, make something new, compelling.
Your work with wood, raw linen, metal and even seaweed demonstrates such a respect for material. Could you describe the inspiration you derive from various media?
Each material holds meaning, specific qualities and inherent limitations so through my own critical lens and observations, the material fuels my experimentation in drawing, painting or sculpture. (paper, linen, canvas, kelp, steel, torrefied maple, yupo/tyvek, tar paper….). The material or materials are chosen carefully as part of the entire composition or idea or concept that I am wanting to convey in the work.
Materials tell stories. I use material to imply certain ideas and images and ask the viewer to engage and fill in the blanks. You will see negative space, minimal lines or marks or materials, all this is an exercise that is very intentional. This intent asks the viewer to carefully observe, the painting, sculpture or drawing, to participate in a dialogue with the materials it is made with and relate it to the place that those works represent.
A couple of examples come to mind. Painting on a torrefied maple panel, the warm amber of the wood panel is used as 'painted colour' (Group of Seven) or coloured ground and I choose the grain of the wood as the basis of the composition. In my paintings of Belgian linen, the VERSO series I work from the back of the linen first, to build an organic layered feeling to the painting for my landscape work.
Most recent the body of work I seam raw Belgian linen together with gessoed cotton canvas. The seam becoming the horizon line, the tree line, the water/sky line – a changing perspective of this remarkable place.
Your beautiful solo exhibition composed of 59 pieces titled "Place" is currently presented at the Fisher's Loft Conference Centre Gallery in Port Rexton. Could you please tell us about your experience creating it and what does "Place" means to you?
'Place' is to me is an ability to look inward and well outside of oneself. It is both the details, the intimate and the vastness, rural to global communities – our place in this world. My intention is to have the paintings/sculpture and their materials pull the viewer in, an intimacy, a closeness and then a much wider, broader place – of richness, of appreciation landscapes, of our shared world.
Late last fall in my travelling the Bonavista peninsula in that same old VW that got me here, I began to really look at the area between Tom's Brown's Pond and the Trinity Bight sign near Port Rexton. The vastness, huge unobstructed views, the gifts that are held in there – the Inland Ponds – where Newfoundlanders go. 'Place' is about looking inward (life in the time of COVID), drawing on community, observing how life is lived here in rural Newfoundland and about belonging. Early in 2021 I met with the Fishers (who were one of the first to come into the gallery + SHEEPSHoP + ArtStudio in early 2019) and they offered the Conference Centre and their Dining/Living Room at the Fishers' Loft Inn. I set about painting. A lot of painting – enough to carefully and thoughtfully fill 1000sq ft. of space! It was a remarkable very focused intense time of painting. I am ever more grateful for where I live, honoured to be an artist in Newfoundland and to be the recipient of generosity and kindness from all the folks that are so very supportive here on the Bonavista Peninsula, especially during a time of great uncertainty.
'Place' at Fishers' Conference Centre and Dining/Living space are paintings and sculpture that embody the ideas around the natural resources of the Inland Pond – IP43 – is 43 km from my studio in Bonavista. Capturing the light, the seasons, the edges of fresh water and the black spruce, tamarack and birch, the hunting and gathering that is abundant in these places. It is familiar, loved and I believe is an integral part of Newfoundlanders rootedness and belonging.
As a member of VANL and a successful practicing artist what advice could you give in regards to creating a business from the ground up?
Creating any business from the ground up is a full time job in itself. There are lots of different models and for me this works well. It gives me winter months of very quiet focused painting/creating time as well as the gallery + SHEEPSHoP + open art studio time where I receive feedback, visitors and stories that inform my understanding of Newfoundland and my work. The diversity is necessary to make this work both financially and professionally. A great example of this was my conscious choice to leverage the Award Winning Kelp Sheep and create the SHEEPSHoP which showcases organic, natural and recycled materials that speak to the place based conceptual ideas found in the Kelp Sheep, honouring history, culture and traditions of Newfoundland.
In what ways did community impacted you as an artist and in which ways did you notice your artistic practice impacted your community?
Belonging is a significant part of my life here in Bonavista, on the Bonavista Peninsula, in Newfoundland. My work is impacted directly by the sense of belonging that I have found here. I had the good fortune to be offered a lease with Bonavista Creative/Living where John Norman created a particular platform(opportunity) that supports small creative businesses. Peggy + John Fisher are unwavering supporters of the visual arts here in Newfoundland and have given me my first solo exhibit, ever.
In Newfoundland I have flourished. I feel supported as an artist and as a person. I feel I am a part of this community and I feel a great responsibility to show up, participate and share both as an artist as well as a neighbour. It is what I remember growing up in the Prairies, a strong connection of kind people, a spectacular landscape and big open space.
If you were taking an interview with your self what 3 questions would you ask yourself? What would you like to share with the audience? Would you say you are happy?
yes, happiest ever imagined. I have dreamed about this 'life' my entire life, so unequivocally without reservation I bring all of my journey, my skills and experiences, sorrows and joys to who I am and what I am creating, how I am living here in this community, in the world. Talking with a local ceramic artist (Micheal Flaherty) yesterday he and I remarked on how grateful we are, how honoured we are, to be artists here in Newfoundland.
Do you do a lot of social media?
Generally no however I am appreciative of those that post, repost and support local businesses and the visual arts. I like people in 'real time', that is where share my energies, enthusiasm and where I draw my inspiration, from people, from place, the stories shared.
Has your work changed or evolved

Fortunately it is constantly evolving. That is, I am wired to look at my work critically and move forward from the discoveries of the successes, failures and opportunities created. I always try my best to make everything with intent, with integrity. Recently I have noticed my colour palette 'opening up'- it is 'seeing' the details, trying to capture a suggestion of beauty, the abundance in Newfoundland, the generosity of its people and of this remarkable place. Pretty much unlimited here.
Have you ever collaborated with another artist on a project and if so what was your experience?
In my life I have been very fortunate to have I have worked with many artists, designers, tradespersons, engineers etc and find the exchange of knowledge and skill is really important to growth as a person. As an artist everything, everyone informs my work today.