A brief bio
Like most artists, I started creating when I was a child. I'd hold up in my room, drawing and painting and making elaborate rooms out of cardboard boxes. I was likely the only child in Grade Two who was made to stay after classes in order to complete a complex drawing as I wasn't quick enough during class time. You can't rush good art! And yes, it was an aquatic scene.
I continued creating throughout school and teen years and moved to the UK in the early 70s where I started seriously working on my art. I was mentored by Tom Greenshields R.A. for 4 years and concentrated on drawing before moving into painting and colour. I continued to develop my skills and style by working with artists whose skill sets would provide me with an in-depth knowledge of a technique or style that would benefit me most.
My early concentration was in portraiture with my work evolving over time into its current impressionist style, aquatic subjects and exclusive use of a palette knife.
Jeanette's art and influences
I work exclusively with painting knives and oils, and like to paint water and boats, particularly traditional wooden boats. I love the challenge of capturing light in water and the interaction of water with vessels on its surface. The older and more weather beaten the boat, the better for building its character in paint.
I feel a bit like a historian in some sense as a number of the boats that I paint, especially the extremely weather-worn ones, are no longer in existence. Capturing a piece of the past and knowing that the numbers of wooden boats are dwindling drives me to find and paint more.
I consider my work to be impressionistic: I place strokes independent of each other with not a lot of blending, letting the viewer's eye mix the colours. Claude Monet, Mary Cassatt, Berthe Morisot plus other impressionist painters from the past inspire my technique. Canadian painter Claude Le Blanc provides food for thought and ideas with his richly textured boat paintings. Artists who are competent in drawing always catch my attention as I believe that drawing is the backbone for all art, no matter what the genre.
About being an artist in Newfoundland
The geographic location of Newfoundland drives creativity – its very isolation making me look closely at what is around me, what influences people and culture and how it can be interpreted in art. The culture almost pushes people to be creative, whether for necessity or artistic outlets. Those long winters are beneficial to the creative mind!
My influence is the water, the boats and the fish along the coast. They breathe inspiration for me, allowing me to create series of boat paintings and explore gyotaku, a Japanese printmaking technique using local marine fish.
The very isolation can also frustrate with lack of access to local quality supplies, and the somewhat limited nature of art growth opportunities. But neither are insurmountable with a mobile society both physically and electronically feeding into the arts. A small population that is likely oversaturated with visual art limits selling power and often artists are restricted to the influx of tourists to provide funds with an occasional infusion of grant money to work on new projects. I don't believe any of these issues are particular to Newfoundland and Labrador, as each area, especially away from a major centre, face the same challenges.
What Jeanette is working on right now?
I have been building a new series of boat and water paintings over the winter and am pulling more of the landscape into my work. The majority of my boats or water scenes are isolated with no reference to human activity or landmass in sight.
The inclusion of objects or land, be it rocks, a strip of grass or a distant landmass, changes everything. It takes some of the focus away from the boat as the subject and begins to set the stage for another story line to be told by the viewer. Including figures into the scenes may be a next step to experiment with.
Opening the Baccalieu Gallery in Heart's Content
Just when others were considering retirement, I decided to open an art gallery.
I am a prolific painter and wanted an outlet where I could offer my work as well as provide space for other artists outside a major city centre. Like other rural towns such as Bonavista, Trinity and Port Rexton, Heart's Content is in its infancy in growth. As with much small town growth, send in the artists first and the rest will follow!
I had been looking for a property and location for a number of years and the Heart's Content property ticked all the check boxes for location, size, ability to transform the space without breaking the bank and to have living accommodations close by.
I have a strong entrepreneurial business background as well as art, so the transition was not a major shock to the system. I opened the doors on August 1, 2017 and the rest, as they say, is history. I wanted the gallery to specialize in art that had an aquatic link, whether obvious such as a seascape or much broader an interpretation which can include aquatic birds, plants, animals, even people. I encourage artists to think laterally when considering works to submit to the gallery. The specialization in aquatic art helps set The Baccalieu Gallery apart from other galleries in the province and shows work from local as well as Canadian artists. I also offer quality local artisan products that range from pottery to jewelry.
The Baccalieu Gallery gallery is open seasonally from May to October, seven days a week. Calls for Submissions are made available on the gallery website, social media and other locations in early winter for spring submission.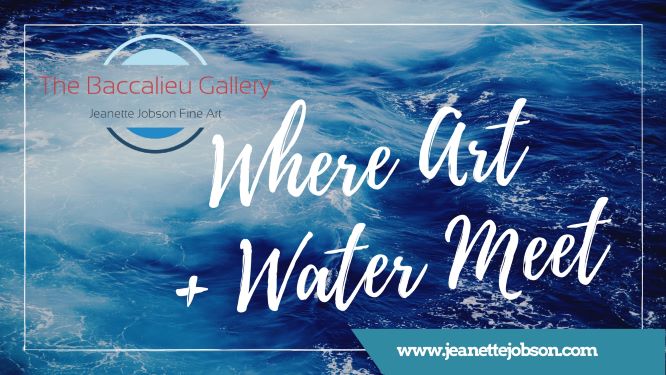 The importance of the gallery/artist relationship
Gallery ownership comes with a number of responsibilities to the business, the artists and the public who buy art. Entrepreneurial skills are essential, knowledge of the art market, knowledge of the artists and their work, local knowledge (you become a bit of an ambassador for the area) and having an eye for art that appeals to a broad range of people.
I believe galleries and artists should become partners as one can not survive well without the other. There has always been a bit of "them and us" when it comes to galleries and artists (expectations that are often left unsaid, which then turn into resentment when those expectations are not met). I want to overcome that stereotype and to be as open and supportive as possible for every artist who is represented in the gallery.
In turn artists need to be supportive of the gallery they are showing in by promoting their own work and pushing collectors to the gallery; acting professionally, not undercutting the gallery and showing their pride in the work they choose to submit for exhibition.
What's on the horizon?
The gallery does take a lot of my time, and not only during the May to October season, but there's still a whole province of boats and ponds and an ocean of water to explore in paint. I love printmaking and would like to explore traditional etching through a workshop, as I've only done drypoint etching, and would like to explore copperplate and zinc as I know little about the chemicals used in this process.
I am working on a book on painting with knives and would like to be able to concentrate on getting that finished and it may be a winter project for completion. I haven't set myself a deadline for it yet but should, as something nipping at your heels ensures that work gets done.
Short experience based art ideas within the gallery setting are spinning in my head but may not see fruition for another year.
Jeanette's 5 tips for artists (and artist wannabes)
Work relentlessly to create best work that you can. It's hard for a reason. Think of Pareto's 80/20 Rule. 80% of artists are mediocre, 20% are amazing. Be one of the amazing ones.
If your work is declined by a gallery, it is for a reason. Use that as an opportunity to improve your skills and don't take it personally.
Develop your own recognizable style.
Learn to draw and understand colour theory.
Use the best quality supplies you can afford.
Jeanette currently shows her work at The Peter Lewis Gallery https:// www.peterlewisgallery.com/ in St. John's and The Baccalieu Gallery in Heart's Content https://jeanettejobson.com/the-baccalieu-gallery.html
You can follow her here:
Instagram. https://www.instagram.com/jeanettejobson/
Facebook: Jeanette Jobson Fine Art. https://www.facebook.com/ jeanettejobsonfineart/
Facebook: The Baccalieu Gallery. https://www.facebook.com/thebaccalieugallery/ Web: https:/www.jeanettejobson.com