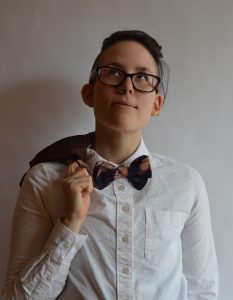 Member of the Month
1. First of all, can you give us some background on why and how you came to NL to establish your professional art practice?
Coming to Newfoundland happened really spontaneously! We vacationed here a lot when I was young and have family friends here, and years later my parents retired to Ferryland. When I came to visit them, Eastern Edge was first on my list. I met really energetic people there and they were exhibiting really compelling work, so when I moved here my first impulse was to volunteer with them. From my first time as a volunteer at the (then) Art Marathon Festival, I was hooked. What struck me immediately about this artistic community is how collaborative it is. Some of my first connections were with established artists here who supported me wholeheartedly, from my first grant application to my first show and beyond. It was through long nights of discussing and debating in studios or in the gallery or by fireplaces that instilled in me not only a deep commitment to supporting our community, but also a critical lens that remained present in all our dialogues and organizing.
2. Your work Nervous Whether was produced during the Elbow Room residency in 2015/2016. When and why did you begin working with weaving within your art practice?
I have wanted to learn to weave since I first saw a loom. I was seduced by the exquisiteness of the loom as an object; I had no idea what it did but it was stunning unto itself. I later got a job at the Anna Templeton Centre where Katie Parnham, Sarah Minty, and a variety of others very generously taught me the basics. I've been hooked ever since.
I have come to realize that repetitive action is my jam; looking back through my practice you can see it's a fundamental feature of my object production and performance. Repetition is a means of conditioning or training, and in all aspects, it forms us as physical and psychological beings. What is repeated in our lives sort of sets our parameters for action and reaction. Weaving allows me to take the repetitive habits that I have formed as reactions to my experiences of anxiety and reroute them into something meditative and generative. Weaving is a physically and mentally consuming task. You get swept away in it, paying close attention to the order in which your pedals need to be pressed to create the pattern, ebbing and flowing with the threads back and forth like a tide. It allows me to translate that action into a pliable material that has such a rich and varied history. It extends through craft and fashion, organizes social and production spaces, and – many don't know this – set us up for technology as we know it today. The Jacquard loom's punch-card system was the basis for what eventually became binary code. Conceptually there's a lot going on there!
3. This month that show is touring to the Grenfell Art Gallery in Corner Brook and you recently had collaborative work installed in an old house in Port Union, Grass in the Sky. Is it important to you that your work be shown in different parts of the province?
Showing work in different regions is very exciting. And you can tell that people are excited to engage with it; in just one day Grass in the sky received over 150 visitors – some local, some travelers – but it proves that people are hungry for more cultural content. And it's really important to take the work we make and re-situate it. Sometimes things take on new meaning when you move them around, and it's important to look at why. Or you call in a whole bunch of people you didn't expect and they enrich and lend new lenses to your practice. It gives an opportunity to ask who we're addressing, and how? Who is being left out of the conversation? Who is being called in? I'm really looking forward to bringing Nervous whether to Corner Brook for that reason.
4. Can you talk a little about some of your upcoming projects?
As we mentioned my exhibition Nervous whether will be touring to Grenfell opening on September 28th. I'm really excited about this show. Not only are we installing the work from the original exhibition, but I'm making new works for it as well. I'm doing lots of research into the history of weaving in terms of production, social spaces, and as a precursor to modern tech; I'm also doing a lot of research on bees, if you can believe it. One of the main inspirations, formally and conceptually, for the installation was a hive or bees nest. There are a lot of poetic parallels to be made there that I'm excited to explore. I'm also working on a long-term project with support from the Canada Council for the Arts and ArtsNL that is a series of hand-drawn, painted, stitched, and paper-cut animations. These videos re-present imagery made digitally through things like Instagram, Skype, and Snapchat, and are looking at the mix of vulnerability, earnestness, and defensive irony present in our online image-making and communications.
5. What do you think are the unique benefits of working as an artist in Newfoundland and Labrador? What are the disadvantages?
As I mentioned earlier, the collaborative spirit of artists in this province is remarkable. It's one of the most valuable things about working here. I think there is always more we can be doing to support and call in new members, but the amount of encouragement we are already working with – emotional and tangible, through workshops, professional development, and multidisciplinarity – is great. There is an inspiring and necessary amount of cross-over between our artists and other agents for social change: musicians, film-makers, students, political organizers, and so many more.
The challenges of working here are often physical and financial: it costs a lot to ship work on and off the island, and to get out of province yourself for exhibitions or residencies. Another challenge is the number of exhibition spaces that exist. I can mostly speak to St. John's, but it feels like we're really lacking avenues, especially for emerging artists to showcase their work and get the necessary feedback and exposure to develop their practice.
6. How do you spend your time when you aren't working on your art practice?
I work a lot! Something that we talk about a lot in terms of advocacy in our communities – popularized by VANL and our revolutionary friend the late Mary MacDonald – is that art = work. We are so grateful for the support we receive as artists here municipally and provincially, but there needs to be a hard look taken at the research presented by our cultural workers and the value that we contribute to our cultural and tourism sector. That financial support needs to be negotiated in a way that doesn't impact the integrity of the works being produced and exhibited here, especially those with political content and objectives. When I'm not at work I'm reading, drawing, playing board games with my family, watching movies, weaving, or making silly noises with my friends! I also play a lot of Tetris (I mean a lot).
7. Lastly, a fun question: describe your perfect studio space.
Oh gosh! Bright! Clean! Extraordinarily tidy! My dream studio would have hardwood floors and white walls, big windows and lots of shelving. Supplies would be meticulously organized by type, size, and colour. It would contain my loom and weaving supplies, a woodworking area, a drafting table, lots of plants, and a charming quiet cat.