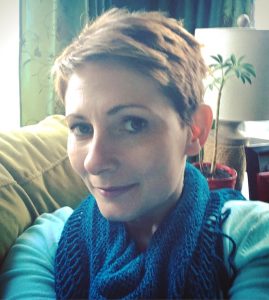 Wendy Mills Sheppard grew up in New Wes Valley – formally called Valleyfield – on the North East coast. She received her BFA from NSCAD, B. Ed. from MUN and has been an Art teacher since 2003. She does as much of her own artwork between working full time and being a Mom to two boys. Wendy has a studio space in her home with several in-progress pieces including linocuts, oil paintings and rug hooking.
Most recently she has started hosting paint and wine nights in the area. She has done two in New Wes Valley so far with another in the works for the spring. They're lots of fun and she hopes that in doing these she is helping reignite fires that may have been doubted long ago. Wendy also teaches private art lessons on Sunday mornings and hopes to put off some kids art class in New Wes Valley during the summer. It is her way of giving back.
Website – www.wendymillssheppard.com
Facebook pages – Artist: Wendy Mills-Sheppard and Inner Artist Classes and Events
1. What role did your education play in leading you towards visual arts? Who was influential in that journey?
Growing up, I had very little access to art (materials and people). I always knew I enjoyed drawing, but I only had access to white computer paper and my regular school pencils. I'm not sure why that was the case. Maybe it was because we didn't live near a big city centre where I could browse through different supplies. As a result I thought sciences was the natural choice in post secondary. When I was in Grade 12 a substitute teacher (originally from the area) arrived and spent a few months at the school. She had a Fine Arts degree from Grenfell. It was only when she arrived that I thought about going to art school. It was only then that it seemed like something that would be attainable. So I applied to Grenfell, and was accepted. About a year and a half into the program I decided to transfer to NSCAD, thinking I would work towards a graphic design degree. Through the Jiggs and the reels I decided to stay in visual arts and graduated with a concentration in Printmaking. While at Grenfell, I took my first Printmaking class with Kent Jones. I loved it. When I arrived at NSCAD I enrolled in some Graphic Design courses. Bob Rogers (Litho instructor) was assigned as my advisor. I had to meet with him one day about course selection and when I stepped into the printshop again, I knew I was home. That's where I stayed. I've been blessed with some wonderful instructors along the way who really encouraged me and my love of Printmaking.
2. Why did you decide to go into arts education?
A: To be honest, I fought against becoming a teacher. When I graduated with my B.F.A. from NSCAD, I worked in Guelph as an Ad Layout Technician at a local paper publishing company. I enjoyed that but I knew I wouldn't do it forever. My husband (fiancé at the time) encouraged me to apply to the Education program. I didn't want to, but I eventually gave in. I graduated in August of 2003 and was hired for my current position in June (two months before I graduated). I've been here ever since. This year, I started teaching the daughter of one of my first students.
I'm glad I gave in and sent that application. My time as a teacher has given me some of the most rewarding and fulfilling moments in my life and I wouldn't change it for anything.
3. Would you say that being an art teacher fuels your art practice?
Being an Art teacher definitely fuels my practice. Much of what I do is inspired by something I want to try in my classes or from seeing something great my students are working on.
I also want my students to see that I'm working on my own ideas as well because I have a passion for what I do. Through my own work, I hope they see the excitement and joy I get from it, and find their own passion for their "thing", whether it be Art or some other interest.
4. What are the most rewarding aspects of your role as an art teacher at Crescent Collegiate? What are the most challenging aspects?
The most rewarding aspect of my work as an Art teacher is spending time with the students I teach and watching them grow from Grade 7 kids into young adults. I feel most comfortable in my classroom with them. We're able to chat about the things that are happening in their lives, while creating and exploring. One of the best feelings, though, is when a student realizes they did something in art that the never thought they could do. Seeing the pride they take in themselves, and their work as a result, is very rewarding for me.
On the flip side of that, however, the challenge is to get them past those self-doubt stages. The fear of failure blocks them from wanting to try, or put their best efforts in sometimes. That's a hard hurdle to overcome. The negativity that surrounds that is draining for me at times.
I try to do a lot of skill building early on. I remind students that while some people are naturally gifted in Art (or Math, or Science, or sports, etc.) most of us have to work really hard to become good at something. Art involves lots of skills and techniques which can be learned and built upon. Those who really love Art take those skills and make them their own. I remind my students that they don't have to be the best artist that ever walked through the door, but they should strive to be better when they finish than when they began.
And, of course, keeping the Art room clean and organized is always a challenge. I dislike throwing things away because I could be used for something at some point, yet I get overwhelmed when I hold onto stuff because it creates clutter. Haha. It's a constant struggle!
5. What would you say to a parent or guardian who was hesitant about their child's interest in fine arts as a career or post-secondary interest?
I understand a parent's desire to want their children to be successful. I'm a mother and I want my children to grow up to be successful too. Success, however, comes in many forms and is not always monetary (though that does certainly relieve a lot of stress).
I've been very fortunate and my path through the arts has served me very well. Everything fell into place for me all along the way and I've never had to really "struggle". It makes it easier for me to sit comfortably in my armchair and say, "let them follow their dreams." But I've also had to work for what I have; nothing was ever handed to me so I do have some credibility when I encourage parents to let their children follow their hearts. We're here to live our lives as only we can and bring our own unique qualities and gifts to the world. Trying to stifle those gifts because they don't fit into some preconceived notion of the world is like trying to doubt a house fire with garden hose.
What's the worse that can happen? Really? You change careers somewhere down the road? That happens everyday. That's the journey of life. We change as we grow. We let things go and we find new paths. We evolve. That's not so tragic is it?
I think the greater tragedy is to force someone into a life that will eventually doubt the fire in their soul.
6. How can rural Newfoundland and Labrador benefit from artists and art educators in smaller communities?
Rural Newfoundland and Labrador benefits from artists and art educators in smaller communities because artists are born everywhere. We're not limited by demographics. Having access to someone who is able to mentor you is vital to your growth as an artist. I wish I had that when I was younger. Looking back, I did have that in my own community. I just didn't see it at the time. David Blackwood is from my hometown and he would come home every year to work in a small studio he has there. I never knew he was ever near the place. Imagine if I was introduced to Printmaking at an earlier age? What a wonderful experience that would have been! And there were many more creative people in my hometown that I could have sought out had I looked hard enough. Janet Davis for example, is another wonderful artist from my hometown (though we were both at NSCAD at the same time). Luckily the younger generations in New Wes Valley (my hometown) have access to the arts now, both visual and theatre, thanks to people like Janet, and many others. Putting yourself out there so people know what you do is so important – for your own growth and to light a path for others along the way.